This article's title is a nickname, based upon conjecture or similar evidence. The correct title is unknown.
Unknown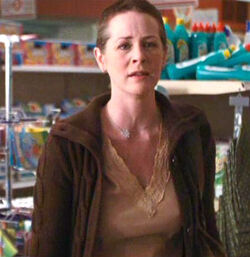 Ethnicity
Caucasian-American
Status
Unknown (novella)
Alive (film)
An
Unnamed Mother
with two children,
Wanda
and
Victor
, at home. In the end credits of the film, she is credited as "
Woman With Kids At Home
."
Biography
Edit
The mother left Wanda in charge of Victor while she went down to the Grocery Store, telling them that she would only be gone a few minutes.
She is among the grocery store patrons who are trapped inside when the Mist appears and engulfs the town outside. Despite others' warnings, she insists that she must get home to her kids. When no one will escort her out into the Mist, she goes out alone, making her way home.
It is unknown what happened to the mother after she went out into the Mist.
At the end, the mother, along with her two children, are seen in a truck filled with survivors, implying that the mother escaped into her car before the creatures in the Mist could get her. This may be due to the fact that it took the creatures time to follow the mist and they didn't immediately arrive.