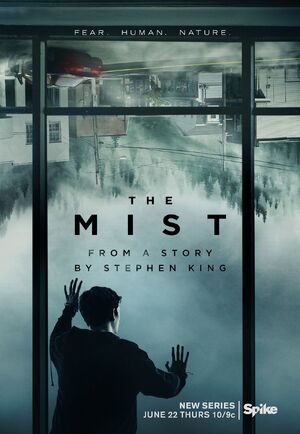 The Mist is a science fiction-horror thriller television series created by Christian Torpe for Spike. It is based on the horror novella of the same name by Stephen King. The first season aired on June 22, 2017, and consists of ten episodes and concluded on August 24, 2017.
On September 27, 2017, the series was cancelled from Spike (now Paramount Network) after one season.
Taking place in the year 2019, an unexplained mist slowly envelopes the city of Bridgeville, Maine, creating an almost impenetrable cloak of visibility. The residents of the town soon learn the situation is even more precarious as hidden within the mist are numerous monsters of various sizes that attack and kill anything that moves.
Cast and characters
Edit
Title
Directed by
Written by
Original air date
1.
"Pilot"
Adam Bernstein
Christian Torpe
June 22, 2017
2.
"Withdrawal"
David Boyd
Story by:Christian Torpe
Teleplay by: Peter Macmanus
June 29, 2017
3.
"Show and Tell"
Nick Murphy
Peter Biegen
July6, 2017
4.
"Pequod"
T.J. Scott
Andrew Wilder
July 13, 2017
5.
"The Waiting Room"
Richard Laxton
Amanda Segel and Christian Torpe
July 20, 2017
6.
"The Devil You Know"
TBA
TBA
July 27, 2017
7.
"Over the River and Through the Woods"
TBA
TBA
August 3, 2017
8.
"The Law of Nature"
TBA
TBA
August 10, 2017
9.
"The Waking Dream"
TBA
TBA
August 17, 2017
10.
"The Tenth Meal"
TBA
TBA
August 24, 2017
* The second and third episodes were released online on June 23, 2017.
Production
Edit
Development
Edit
Following the release of Frank Darabont's film adaptation of The Mist in 2007, executive producers Bob Weinstein and Harvey Weinstein announced plans to develop a miniseries based on the film. In November 2013, Bob Weinstein announced that a 10-part miniseries would begin production under their Dimension Television banner. It was unclear if film director Darabont would be involved in the series and the development remained stagnant for a period of time.
In September 2015, nearly two years after the project was announced, Dimension Television announced they had signed screenwriter Christian Torpe to pen the entire series. In February 2016, Spike picked up the pilot. In April 2016, it was announced a deal had been reached with Spike to air the entire series. In July 2016, the production company announced the series had been cast and gone into production in Halifax, Nova Scotia.
Financing
Edit
The ten episodes of the first season were reportedly produced on a budget of approximately $23 million dollars. The government of Nova Scotia announced in July 2016 that it would contribute $5.9 million for the series. The production marks the biggest entertainment production to ever shoot in the province.
In July 2016, Dimension Television announced Morgan Spector would play the lead character of Kevin Copeland. Other cast members announced included Frances Conroy, Alyssa Sutherland, Gus Birney, Dan Butler, Luke Cosgrove, Danica Curcic, Okezie Morro, Darren Pettie, Russell Posner and Isiah Whitlock, Jr.
Featurettes
Edit
External links
Edit
Community content is available under
CC-BY-SA
unless otherwise noted.