Unknown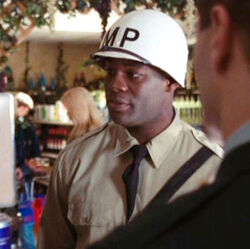 Ethnicity
African-American
Relatives
No known relatives
Real name unknown, is an MP from Shaymore. He only appeared in the film.
Biography
Edit
The MP arrives at the Food House to inform Jessup, Morales and Donaldson that all leaves have been cancelled. He then orders them to meet him back at his jeep in five minutes while he investigates King's Pharmacy. While the MP investigates the pharmacy, the town outside is engulfed by the Mist.
As the pharmacy's doors were left wide open, the MP and the pharmacy patrons are smelled out and attacked by Gray Widowers which proceed to overrun the pharmacy and use it as a nest. They cocoon the MP to a pillar in web silk, and lay Gray Widowlett eggs under his skin.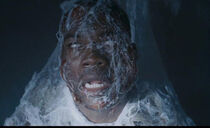 About a day later, a group of survivors from the Food House arrive for supplies. They discover the MP, who screams that the Mist "is all our fault" (apparently believing that the disaster was caused by the Arrowhead Project) before he hatches thousands of Gray Widowletts; painfully and gruesomely killing him.
The MP's uniform dates back to the 1960s.