Jay Heisel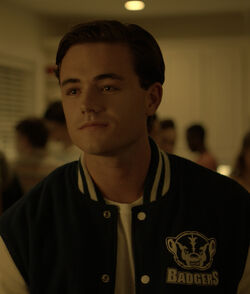 Ethnicity
Australian America
Jay Heisel is one of the main characters in The Mist television show, played by Luke Cosgrove. A popular high school footballer and the son of the local sheriff, Connor Heisel, Jay is accused of a heinous crime. When the Mist arrives, he is trapped in the local mall.
He is accused of raping Alex, despite the true identity of the rapist being Adrian.
Biography
Edit
TBA
Jay tries to save Alex from the smoke monster traps, and sadly he dies after Jay saves Alex for her death. He was then trapped inside the room with the smoke monster causing his death.
Appearances: 10/10
Edit
Pilot
Withdrawal
Show and Tell
Pequod
The Waiting Room  
The Devil You Know  
Over The River and Through The Woods  
The Law of Nature 
The Waking Dream 
The Tenth Meal