Hattie Turman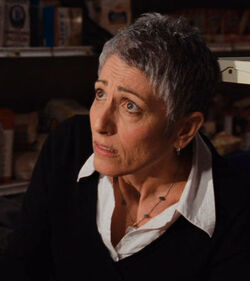 Age
Unspecified (Late 20s to Late 30s, novella)
Unspecified (Late 40s to Late 50s, film)
Ethnicity
Caucasian-American
Hattie Turman is a member of David's group and Billy's babysitter during the mist phenomenon.
Biography
Edit
Hattie is one of the patrons trapped inside the Grocery Store when the Mist appears and engulfs the town outside. She, along with Amanda, babysits and protects Billy. She is killed by a Gray Widower during the escape from the market when it cocoons her in its corrosive webbing. The Gray Widower then scuttles off through the mist with Hattie's cocooned remains.
Hattie's role is mostly the same in the film, but more minor. She is deeply scared, to the extent that after the first night, she commits suicide using pills.
Relationships
Edit
Hattie was very warm and caring to Billy, and enjoyed looking after him for David and playing children's games with him. She was also highly protective of him when Scorpion-Flies and Pterobuzzards broke into the store.
In the film, Irene warmly tried to comfort Hattie when she was terrified.