Eve Copeland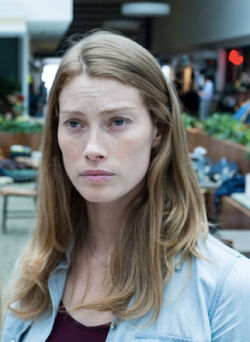 Ethnicity
Australian American
Eve Copeland is one of the main characters in The Mist television show, played by Alyssa Sutherland.
Biography
[
]
Eve lives with her husband Kevin and daughter Alex in Bridgeville, Maine.
Eve Copeland (Alyssa Sutherland) is a teacher at the local high school. In the beginning of the Pilot episode she is reprimanded by the principal for teaching the children about detailed sexual education despite the school board's wishes against such lessons.
She is stuck in the mall with her daughter when the MIST arrives.
Appearances: 10/10
[
]
Pilot
Withdrawal
Show and Tell
Pequod  
The Waiting Room   
The Devil You Know  
Over The River and Through The Woods  
The Law of Nature 
The Waking Dream 
The Tenth Meal   
Videos
[
]